Lady Patriot Harriers Win First Meet of the Season
Freedom High School's Cross Country teams earned First and Second places at the Central Hillsborough area meet. The 3.1 mile course was run at King High School August 21. Freedom's girls won with a team score of 28. The Patriot boys placed with a team score of 58.
Team Captain Morgan Kugel shared leading the pack with Wharton High School junior Nia Rivers throughout most of the race, posting a second-overall finish with a time of 22:09. Quickly following were Patriot runners Maria Melara (24:20) and Melissa Millington (24:56), completing the race's top five finishers. Freedom's final two scoring runners, Reece Kennaugh (26:20) and Jessica Cao (26:42) finished in the top ten of the meet. Lauren Blair (28:50) and Sofia Garcia (36:53) finished the roster for the New Tampa school.
Freedom's boys team faced tough competition from the Wharton team, earning second place overall. Sophomore Andrew Cory led the Freedom team with an eighth place individual finish, posting a time of 19:24. The Freedom pack blew through shortly, led by team captain Andre Benitez (20:09), Austin Channels (20:29), Drew Burson (20:42), Ethan Fuhrmeister (20:48). Paul Catelano (20:54), Parker Hertenstein (21:30), and Tyler Weaver (25:55) rounded out the Boys running in red, white, and blue.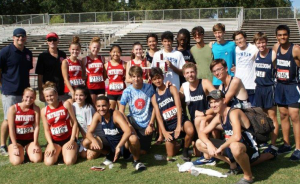 Patriot Runners Score at Don Bishop Invitation in Brandon
The Girls and Boys Cross Country teams of Freedom High School brought home First and Third Place trophies this past Saturday at the Don Bishop Invitational meet at Brandon High School.
The girls team, led by Captain Morgan Kugel scored 64 points, and the boys team, led out by Captain Andre Benitez scored 110 points.
Senior Morgan Kugel finished the 3.1 mile course in 20:56, taking second overall to Strawberry Crest's Taylor Johnson. Sophomore Maria Melara scored second for the team, finishing seventh overall at the 21:52 mark. Melissa Millington (23:19), Ellis Erickson (24:12), and Reece Kennaugh (24:20) completed the scoring for Freedom. Varsity runners Amelia Morgan (24:42) and Jessica Cao (25:23) followed closely, to place the whole Freedom roster in the top half of the race.
Freedom's boys team was led out by Junior Andre Benitez (18:17), finishing in the top 10. Sophomores Andrew Cory (18:39) and Owen Smith (18:47) crossed the wire in the top 25. Omar Obeid (19:18), Austin Channels (19:25), Ethan Fuhrmeister (19:33), and Leo Batista (19:45) finished in rapid succession to place all Patriots in the top third of the race.
The Patriot Junior Varsity boys team scored Second overall, with Paul Catalano (20:29), Parker Hertenstein (20:44), and Ben Whinter (20:44) bringing in a 5-6-7 place finish. Matthew Hernandez (22:13), Ibraham Nasser (24:57), Will Douglas (25:47), and Josiah Simmons (38:10) completed the team of distance runners. Freedom did not field a full Junior Varsity Girls team, however, Lauren Blair (28:15) finished the race in the top 10, and Chiara Grampietro (48:01) demonstrated the resilience that is part of the sport while recovering from an ankle injury.
The Brandon race is a favorite late September / early October event because of the central location and fast, reliable course. Eleven of the twenty-three  runners scored a personal best for the 5K run.